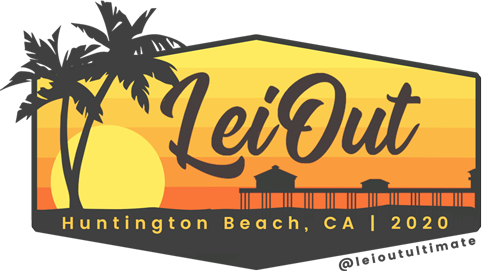 Dear Lei-Out,
This is my 2nd year as the TD for Lei-Out after working as the scheduler since 2004.
I love this tournament. I care about making it the best and I vow to improve it even more this year.
Lei-Out is one of the largest beach tournaments in the United States and in the world! We're excited to be back this MLK weekend, January 18th and 19th. And for the third year in a row we will be in Huntington Beach.
The party will be hosted by Legacy Night Club and Lounge (formerly Envy). Last year the party was a huge success and this year it will be even better. Expect all the fun and games of last year with a few new surprises. We can't wait to party with you!
We've made a lot of strides in the past two years to overhaul the experience. We've increased staff, shuttles, and environmental sustainability. We care about accountability and transparency.
We sent out a post-tournament survey last year and the responses showed us you were really happy with the changes. We hope to maintain that and hopefully surpass your expectations in 2020 and beyond.
I think you're going to have an amazing time and I can't wait to see you out on the sand.
Andy Bandit
Tournament Director
TOURNAMENT STAFF
Presenting the hard-working folks who bring this wonderful event to you