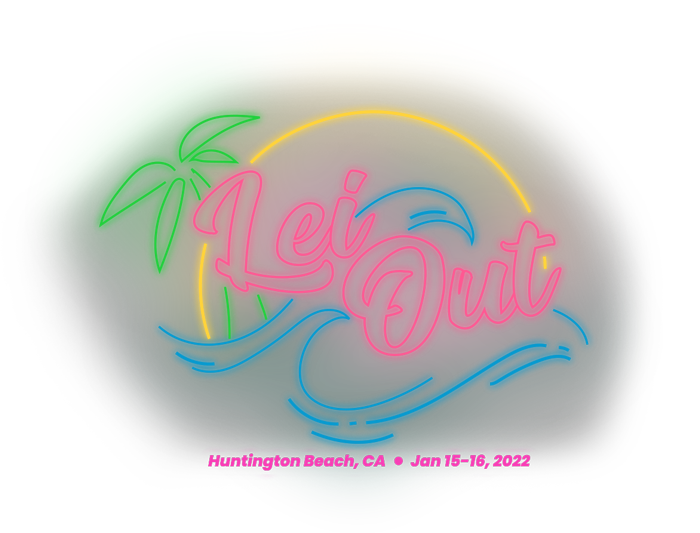 Dear Ultimate Lovers,
The best Beach Ultimate party tournament in the world will be held on MLK weekend, January 15 &16, 2022 in Huntington Beach, CA. I may be biased, but LeiOut 2022 is going to be amazing. This is my first year as your plucky TD and I couldn't be more excited. This is the very tournament that my friend invited me to twelve years ago before I chose to move from NYC to Los Angeles. Nine years into living here, I am stoked to be helping LeiOut make bold moves of its own.
The LeiOut 2022 team is excited about bringing everyone together, and we want you to know that every decision we make is about safety, fun, and community. This year more than others, safety is of the utmost concern. After extensive research and discussion, all LeiOut 2022 participants, staff, and volunteers are required to have been vaccinated by Dec 31, 2021. With this vaccination mandate and the rise of new variants, we are still planning our infamous party to be held at the Legacy Night Club & Lounge where we are looking into expanded outdoor tent structures to limit indoor exposure. And if push comes to shove, we have contingency plans for an all-day dance party on the beach, or an event-wide refund for the portion of fees that normally covers the party should all solutions be deemed unsafe. we have planned a new form of LeiOut party, one where participants can drink all day in a specified outdoor area and hang out in small groups while listening to music and other entertainment. We'll provide more details closer to the event. We also highly encourage participants to get their booster shots before January 1, 2022 to help prevent the spread of any new variants.
In addition we are excited to announce that all divisions except the most competitive one will be 4v4! This not only aligns with LAOUT's GE initiatives but we also believe it will create a better playing experience for all. Especially with two-pointers! That's right, endzone to endzone cross-gender completions are worth two; and so are Callahans! LeiOut just got a lot spicier. Luckily, we're giving you a bye on Saturday to absorb all of the fun and catch up with those friends in another division.
I also want to acknowledge that we're increasing registration fees for LeiOut 2022 by about 25% in a push to accelerate Ultimate's growth in Los Angeles. With your continued support LAOUT & SCYU are targeting to hire their first employee  by the end of 2023 with an immediate goal of increasing the number of school Ultimate teams by 500% in five years. Increased fees also cover the increasing costs of running a large event (trainers, shuttles, COVID safety measures, etc) and mean our team can be rewarded for making the event even more fun for you.
Safety. Fun. Community. We can't wait to have you back in Huntington Beach. From the darkness emerges LeiOut 2022: be there, be radiant, be you! Moving forward together,
Grant Boyd
Tournament Director