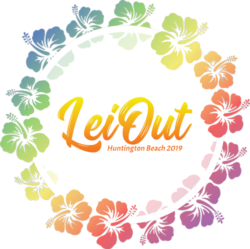 Lei Out 2019, under new management!!!
I'm very proud to announce the dates and location for Lei Out 2019. We'll be back on MLK weekend January 19 and 20, and we're returning to Huntington Beach where the sand was great, and has the space for the kick ass party that we've wanted to throw.
Also, I'm excited to be the new TD of Lei Out. Brian Calle, who has been at the helm for over a decade of incredible growth while the tournament went from 50 teams to one of the largest Beach Ultimate tournaments in the world, is stepping down to focus his attention on his media business. As many of you know, I've been doing the scheduling for Lei Out since 2004, and so I've worked with Brian for many years, and he's a good friend and I wish him all the best.
I know many of you have had issues with Lei Out. The move to Huntington this past year was helpful in addressing some of those concerns, but there's more to do. And my goal with my team is to address these issues to improve the tournament experience for everyone. So there's a lot of changes we intend to implement, such as increased staffing, increased amenities, satellite Frisbee Centrals so no matter where your team is on the beach, you're not far from getting food, water, medical attention, and information. I believe in financial transparency. And I am big on open communication.
I believe Lei Out can continue to grow, so long as we're staffed correctly and every team gets the same level of treatment. So I really hope you get excited too by the changes we're going to implement, and I think you're going to be very pleased.
Also, it's important to mention that we're supportive and respectful of Throwback. They made a point to bring a lot of problems with Lei Out to light, and offered an alternative event with honorable values that I personally agree with. Their success last year was a clear reflection of the fact that there were changes that needed to be made. We sat down together this year and discussed options for next year and the future. For this coming year, we agreed to be separate but cooperative tournaments. I also think we have a lot to prove to them. To not just talk, but have real action. And I look forward to meeting, and exceeding that challenge.
Registration will be opening very soon.
Thanks for reading. I hope to see you out there.
Andy Bandit
TOURNAMENT STAFF
Presenting the hard-working folks who bring this wonderful event to you